Wishing our wellness community health, peace, joy and inspiration for 2021!
20% Discount for First Responders, Teachers, Yoga Instructors, Artists, Activists, and Military Personnel  
Yoga, Arts & Wellness – Classes, Services and Workshops in Winston-Salem
The Breathing Room is a center for yoga, arts, and wellness in Winston-Salem, North Carolina.  Our unique community of instructors and practitioners offer vinyasa yoga classes, as well as massage, private yoga, coaching, reiki and more.  Our goal is to serve you as you reach for your highest potential!
We are located in the West End Millworks next to The Porch restaurant at 918 Bridge St. Winston Salem, NC 27101.
Due to COVID restrictions, registration and pre-payment is now required for all yoga classes. We also ask that students bring their own mat or buy one at the studio to keep. We apologize for any inconvenience this may cause but want to ensure the utmost safety for all who enter the studio.
Drop-in Regular Yoga Class:  $20
Please check out our newest program additions:
Midday Reset w/Ryan at 12:15p on Monday and Wednesday
Yoga for Young'ns w/Vicki at 10am on Thursday (ages 4-5 years)
Save by purchasing a package here.
Simply click any class in the schedule to sign up, learn more, or purchase a class package.
        Having trouble seeing or accessing signup on the calendar above?  Click here.
Yoga Teacher Training at The Breathing Room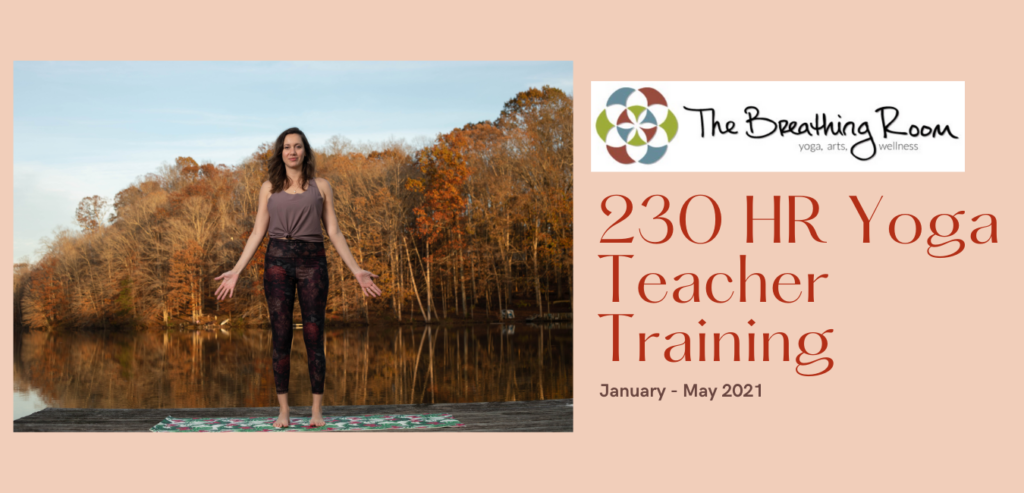 Whether you aspire to teach or are pursuing yoga as a path of development,
The Breathing Room's 230-hour Yoga Teacher Training is for you.
---
Subscribe to our Newsletter
Stay updated on events, promotions, workshops and more!
Contact Us
Find us at the studio before or after classes
918 Bridge St., Winston Salem, NC 27101
Give us a ring
The Breathing Room 
(336) 608-6698
Mon - Fri, 9 - 5pm