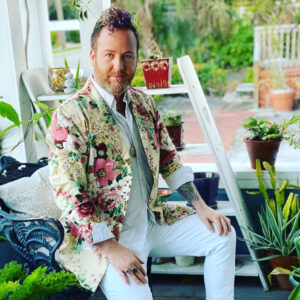 ZACHARI VAN DYNE
Have you ever encountered a Natural Mystic? If you haven't or don't believe that you have, meet Zachari- a beautiful Phoenix who followed his path of light back to Earth and began life again. Born with a natural connection to the unseen mysteries, Zachari has read professionally for clients for over 20 years.
Guided by spirit, he lived in India for over four years, where he studied with Healers, Alchemists, and Masters, including His Holiness, the 17th Gyalwa Karmapa and His Holiness, the 14th Dalai Lama. Returning to his native Fort Myers, Florida, he continued to serve the community by teaching, leading meditation, holding workshops, creating the first CasaShanti Shop, and creating an annual community event in honor of the International Day of Peace that is still active and just held its 14th annual event in September 2021.

His natural abilities to connect with spirits, cosmic guides, and the Akashic records allows Zachari's sacred transmissions to empower and heal the mind, body and soul. Through connecting with a natural, true and authentic oracle, Zachari offers profound insight, clarity and awareness into all of life's journeys and mysteries. He works with energy, numbers, the cards, past life regression, and spirits who have crossed over to open your heart and read your story. Following the voice of spirit to move here to Winston Salem, Zachari is excited to share his talents, experience and wisdom here with our community.