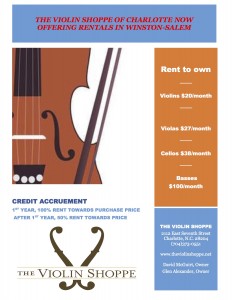 The Breathing Room is now in partnership with The Violin Shoppe! We invite you to contact Glen Alexander for accessories, instrument purchases and rentals as well as repairs and restorations. The Violin Shoppe is currently the Charlotte area's number one choice for strings players and is now expanding into Winston-Salem, offering consultations and rentals through The Breathing Room.
You'll discover we take pride in not being the typical music shop. Instead, we provide a gathering place where musicians and friends meet like-minded strings enthusiasts to learn, share ideas, network for performance opportunities, and find out about workshops, lessons, and other musical goings on in the community. Our clientele range from Charlotte Symphony musicians, touring artists, and recording pros, to complete beginners of all ages. The old stereotype of the high brow string shop where you're expected to speak in whispered tones and keep your hands off the merchandise is thrown out the window here. As you enter the foyer of the gorgeous old home we occupy in Charlotte's historic Elizabeth neighborhood, you're greeted by the warm glow of our popcorn popper. Please, help yourself! We like to treat all who visit the shop as our friends. If it's your first visit, we're honored that you took the time, we hope we make you feel at home, and we'd love for you to visit us often. We'd be tickled (as would our families) to have you as a customer, but know that you are always welcome to come and just chat, have a snack, play a little music, perhaps watch a snippet on the widescreen from our eclectic collection of strings performance DVDs ranging from classical to celtic, bluegrass and gypsy swing.
Whether you're looking for your first cello or seeking an advanced level violin to carry a student through college and beyond, you'll find we have a broad range of instruments from many makers and in all price ranges. We encourage our student clients to have their instructors accompany them to the shop to assist in the important process of selecting the right instrument. If you can't decide between an instrument or two, we invite you to take the instruments home on trial for a few days. This way, you'll have the opportunity to "stretch out" with them and play them in your own familiar surroundings. Selecting an instrument is a very personal endeavor, and we want you to be completely satisfied with anything you purchase from us.
In fact, in addition to the standard warranty on all our instruments, we also extend to our clients for 30 days from date of purchase the opportunity to exchange your instrument –for any reason– for a different in-stock instrument.
For more information, call Glen Alexander to set up an appointment at (704) 373-0551