Have you heard of restorative yoga?
A restorative yoga sequence typically involves five or sixes. These poses are designed to allow you to completely relax and even rest! Most people hold these relaxing poses for around five minutes or even longer! Below you will see three poses we decided to share with you!
Enjoy!
Restorative Child's Pose
The child's pose in restorative yoga is seen as a big hug. It's so comfy, that you will never want to get up! This pose is excellent for your hips and back. Be sure to try this pose out next time your in yoga class!
Restorative
Paschimottanasana
This lovely pose gives you the best of both worlds. You pretty much support yourself in a forward fold. Be sure when you try this pose, you come up as far as you can with a flat back!
Restorative Heart Opener
When preforming this pose, you can use a block. However, an ergonomic block or a bolster makes it much more comfy! Do this pose right and after just a few quick seconds, it will have you feeling brand new and ready to take on the day!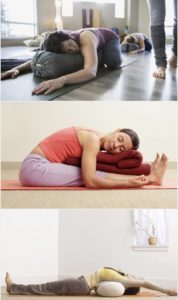 SaveSave