I was five months pregnant at Thanksgiving. The nausea had finally, finally receded, just in time for me to hopefully enjoy the holiday. But instead of the "honeymoon of pregnancy" that everyone claimed would come; I was now plagued by back pain and insomnia. I borrowed a special pregnancy pillow from a friend, but it did little to help. My misery culminated the night after our Thanksgiving feast, when, to my horror, I laid awake all night long. I watched the hours tick past – one o'clock, two o'clock, three… four… I tossed and turned miserably in my bed, unable to find a comfortable position. I finally drifted off around 7:00 AM, just as the rest of the household rose to start the day.
Back home after the holiday, I shared my tale of woe with my friend Emily Stewart of The Breathing Room. She had a different suggestion than most. "Have you tried prenatal reiki?" she asked. "Come see me tomorrow and we'll see what we can do."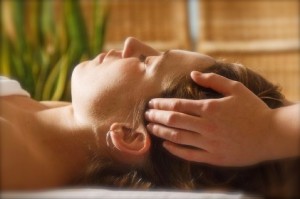 I met Emily the next day, unsure what to expect.   I lay down awkwardly on the massage table, groaning as I tried to find a tolerable position for my aching back and burgeoning belly. Soothing music played in the background; essential oils perfumed the air.
Emily encouraged me to close my eyes and relax as much as I could.   I dutifully closed my eyes, but couldn't help peeking a little. I saw Emily close her own eyes and hold her hands a few inches above my head. It seemed I could feel the warmth radiating from her palms. Drowsily, I found it easier to close my eyes than I'd expected. Just for a minute…
In what seemed like only a few seconds later, my eyes flew open. Emily was standing by my waist, her hands cupped just above my abdomen. Internally, I was surprised to feel my stomach cramping and gurgling. I was sure this was breaking the rules of reiki, but I had no choice. "Emily," I exclaimed, causing her to jump. "Sorry, but I've got to go to the bathroom! Now!" I heaved myself up and waddled away as quickly as I could.
After my session, I felt abashed that all the reiki had seemingly done was randomly upset my stomach. Wasn't it supposed to make me feel better, not worse? When I got home, I did a little research on prenatal reiki. To my astonishment, the very first link that I clicked on read, "The hormones associated with pregnancy – human chorionic gonadotropin (hCG) and estrogen — contributes to gastric distress. Reiki treatment may help relax the gastrointestinal walls…." It turned out what I had experienced was probably the effects of my hormone balance shifting as the reiki took effect – not so random after all!
I returned to Emily for another treatment. In the nights that followed, I had to admit that I slept better. My back hurt less and I was able to relax more easily at bedtime. Intrigued, I looked for further explanation. The research I read indicates that this was likely due to reiki balancing my emotions, and therefore the stress hormones released by my body.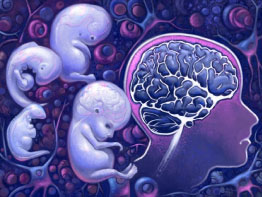 Tension and anxiety release cortisol and adrenaline, which in turn keep the body in a perpetually tense state of "fight or flight." Relaxation, meanwhile, activates the parasympathetic nervous system and soothes both mind and body. As I read further, I discovered something even better:  encouraging a positive biochemical state also benefited my baby! Maternal stress affects fetal brain development, so the more I could do to feel happy and positive, the more healthy my baby would be.
Looking back, prenatal reiki was one of the best choices I made during my pregnancy. If you'd like to check out prenatal reiki, you can book an appointment at The Breathing Room.
-Sadie Kneidel
In addition to being a certified HypnoBirthing® practitoner and founder of Greensboro Hypnobirthing® & More, Sadie Kneidel has a Master's Degree in Clinical Mental Health Counseling from the University of North Carolina at Greensboro.  With a bachelor's degree in Women's Studies and Spanish Language, she offers bilingual services and is trained to work sensitively with issues of sex and gender.  In addition, Sadie is a Certified Yoga Instructor, through Free Spirits Yoga and holds a Reiki II Certificate.  She is also an Ordained Ceremonial Officiant through Light & Energy Workers Association.