As the weather heats up and summer breaks into full swing and parents try to find creative ways to keep their kids enriched and engaged, The Breathing Room is preparing for its second year of Summer Fun Camp for Kids.
We are featuring two themed weeks of camp this year. "Move Your Body!" Week will be held July 13-17 with a focus on yoga, dance, and other forms of movement. "Drum & Draw!" Week will be held July 20-24 with the focus on music, art, theatre, and songwriting. 
[custom_frame_left]


[/custom_frame_left]
We decided to sit down and ask Sara Breyfogle, our camp leader, a few questions:
What's your teaching philosophy?
I believe that children learn best when given space to create, whether that's through movement, the arts, or any other medium. I create an environment that is structured in a way that the kids feel safe, but I also provide choices and freedom within that structure from creativity. I create boundaries and limits collaboratively with the kids and then serve as container for those boundaries that we set together. I also believe in the principle of balance, so everything that I teach involves a giving and receiving, an effort and a releasing of effort, or an ebb and a flow.
What will my kids get out of Summer Fun Camp? 
Your kids will learn to work cooperatively in an intimate and safe environment with 4 to 9 other children, under the guidance of myself and other staff and volunteers from The Breathing Room, as well as guest teachers. They will engage in creative arts activities, games, and classes with community arts and movement teachers, learning principles of teamwork, leadership, and creativity. Not to mention having loads of fun!
Why do you feel like yoga and the arts are good for kids?
I believe that in addition giving them stronger and healthier bodies, yoga teaches children mindfulness, which improves quality of life on many fronts: attention to task, healthy relationship with self and others, and discernment in decision-making. This camp will teach yoga on a variety of levels: asana, or postures, meditation, relaxation, and breathing. All of these avenues access the qualities mentioned above. The arts are so important for children because they open the mind to creativity, which is often taken for granted, but is an essential skill that must be nurtured. There are so many avenues to practice the arts: music, drama, visual art, and dance, and they will all be present at our camp.
[custom_frame_right]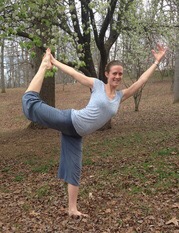 [/custom_frame_right] Tell me more about Summer Fun Camp. 
Even though each week of camp has a theme: Move your Body or Drum and Draw, elements of each will be present for both weeks. So, we'll do yoga every morning to "wake up" and center our minds and bodies both weeks. And we'll have creative opportunities built into both weeks as well. For instance, during Move Your Body week, the kids will be asked to team up and create a scavenger hunt that will involve different physical and mental tasks for their peers. 
Tell me more about you.
First of all, I love making a difference in kid's lives. I am a board certified music therapist, registered yoga teacher, and a certified kids yoga instructor. I also lead kirtan (the yoga of music and chanting) here at The Breathing Room. I lead yoga classes and retreats for adults as well! I am now halfway to earning my masters degree in music therapy from Radford University. My dream is to be a complimentary therapist using music and yoga in healthcare settings.
What are your favorite ways to work with kids?
I love to work with kids in any way that is creative. The avenues that I specialize in are music and yoga, though I love all creative arts mediums. I love creating opportunities that get kids thinking together about creative solutions or ideas.
What if my kid is not into yoga?
Well, neither week of camp is solely focused on yoga, it is only a part of what we do. Plus, the yoga your child may be thinking of may be quite different from the yoga they will experience at Summer Fun Camp, so I would encourage kids to keep an open mind!
[custom_button text="More Info & Registration" title="More Info & Registration" url="https://thebreathingroomws.org/class-schedule/summer-fun-camp-for-kids-2015/" size="x-large" bg_color="#9FAD39″ text_color="#FFFFFF" align="center" target="_self"]
[custom_frame_left]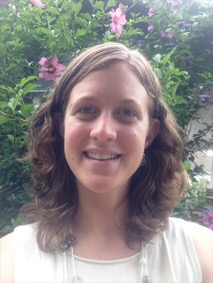 [/custom_frame_left] Sara Breyfogle, MT-BC, RYT, has experience working with children both as a board certified music therapist, guitar and voice instructor, preschool music teacher, and a certified children's yoga instructor. Sara has had leadership experience both as a yoga retreat coordinator for Windward Yoga Retreat and as a music therapist in private practice Music Therapy of the Triad. Sara earned her bachelors degree in music therapy from Appalachian State University in 2012 and is a candidate for a masters degree in music therapy from Radford University in 2016, and loves using her therapeutic skills to lovingly see each child as an individual with great potential. Sara believes in bringing movement and the arts to children in creative and accessible ways.