Opopanax Essential Oil – Commiphora guidotii
What a great name for an essential oil!
It is a hard oil to pronounce but if you notice the Latin name – can you guess what oil it is related to?
If you said Myrrh – you are right!
[custom_frame_right]


[/custom_frame_right]This oil comes from a South African distiller who purchases the resin in Ethiopia. The distiller buys the resin that has been collected by nomadic tribes that have been working with resins for many generations. The resins are mostly collected from the semi-arid region of Ogaden in Ethiopia.
Here are the facts about myrrh:
Produced from steam distillation of the resin
Botanical Family: Burseaceae
Base note
Aroma: balsamic, sweet, resinous, warm
Chemical families: Monoterpenes and Sesquiterpenes
The resin comes from plants that are wildcrafted.
Therapeutic Properties
Antibacterial – helps the body fight bacteria
Anti-diarrheal – helps the body deal with diarrhea
Antiseptic – assists in fighting germs/infections
Anti-spasmodic – relieves spasms and cramps
Anti-inflammatory – alleviates inflammation
Expectorant – removes excess mucus from respiratory system
Emotional and Energetic Qualities
Supports meditation and inner unity
Grounds, calms, warms
Fosters opening on an energetic level
Sedates and restores
Helps bring the bodies energy down and is emotionally grounding.
Safety Considerations
Generally non-irritating but may cause sensitization and skin irritation in some people.
Phototoxic so be sure to avoid direct sunlight or tanning beds or lights for 24 hours after applying to the skin.  Phototoxic burns are serious.  Avoid in pregnancy.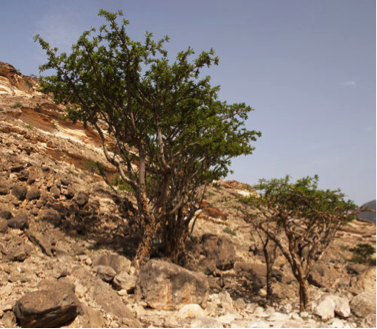 The Opoponax tree has a branching stem growing about 1 to 3 feet high, which is thick and rough near the base. The resin is obtained by cutting into the stem at the base. The juice that exudes dries in the sun, and from these 'tears', the Essential Oil is obtained.
Sources:
Black, K. (2013, December 31). Essential Oils. Retrieved April 01, 2014, from Aromatic International: www.aromaticinternational.comButje, A. (2012). Essential Living Aromatherapy Recipes for Health & Home. Charleston,SC: Aromahead .
Mojay, G. (1996). Aromatherapy for Healing the Spirit. NY: Henry Holt.
Tisserand, R. R. (2014). Essential Oil Safety. Toronto: Churchill Livingstone Elsevier.
-Julie Jones
Julie Jones of Restore to Balance practices Aromatherapy, Healing Touch, and more at The Breathing Room.  Her passion is teaching herself and others about wellness and self-care in order to improve health and vitality.  She is a Registered Nurse, Certified Health & Wellness Coach, Clinical Aromatherapist, and Certified Healing Touch Practitioner.  You can find her organic, sustainably derived essential oils in the retail area at The Breathing Room.  Visit Restore to Balance's website:  http://www.restoretobalance.com/.
–