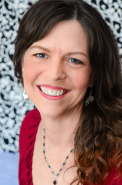 Book a  Massage Therapy session with Melanie Hendrix for relief from pain and tension, or for deep relaxation. Her specialities include Trigger Point Therapy, Thai Massage, Swedish, Deep Tissue, Reflexology, and Reiki.
Melanie Hendrix graduated from Carolina School of Massage Therapy in 1993. She worked and trained with physical therapists for the next 2 years at Raleigh Back Care Center, where she gained expertise in Trigger Point Therapy. With twenty years of experience working in Physical Therapy and Chiropractic clinics, Melanie has mastered many modalities, including Swedish, Deep Tissue, Reflexology, Thai Massage, Reiki, and Trigger Point Therapy. She has been licensed in NC since 2001.
Melanie tailors her sessions to fit the needs and preferences of her clients. Sessions can be focused towards relaxation or pain relief. Her goal is for every client to feel better walking out the door than they did walking in.
Melanie is available for massage at The Breathing Room from 9:00 am-9:00 pm every Wednesday.
Introductory (First Time Only):                                                   
Book a Massage and Receive a Free Yoga Class!
Rates:
30 minutes  – $45
60 minutes – $80
90 minutes – $110