Melanie Hendrix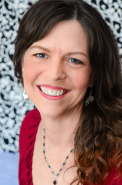 Book a massage with Melanie Hendrix for relief from pain and tension, or for deep relaxation. Her specialities include Trigger Point Therapy, Thai Massage, Swedish, Deep Tissue, Reflexology, and Reiki.  If you'd like to book an appointment with Melanie on a day other than Wednesday, e-mail
tappedinmel@gmail.com
.
Wednesdays:  9 am – 9 pm
Book a Massage with Melanie
Sabrina Quillin
Sabrina is a graduate of the massage therapy program at Living Arts Institute in Winston Salem. Her mission in this profession is to help individuals achieve balance in their lives both physically and mentally. Sabrina is a firm believer in the inseparable connection between mind and body. She understands that each person is unique so each needs their own custom massage incorporating a variety of modalities.
Sabrina approaches everything from a place of compassion for all living things (human and animal) therefore uses all animal friendly products in her therapy room.
She believes everyone should have a safe, judgement-free space for relaxing and healing!
Contact Sabrina at (336) 671-0798 to schedule an appointment!