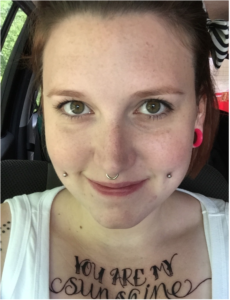 Sabrina is a graduate of the massage therapy program at Living Arts Institute in Winston Salem. Her mission in this profession is to help individuals achieve balance in their lives both physically and mentally. Sabrina is a firm believer in the inseparable connection between mind and body. She understands that each person is unique so each needs their own custom massage incorporating a variety of modalities. Sabrina approaches everything from a place of compassion for all living things (human and animal) therefore uses all animal friendly products in her therapy room. She believes everyone should have a safe, judgement-free space for relaxing and healing!
Sabrina is available for massage at The Breathing Room by appointment only.

Call (336) 671-0798 to schedule an appointment!
Services:
Custom Massage
Massage incorporating a variety of modalities to meet each individual's needs.
Whether you need relaxation or pain relief, this massage has you covered! The therapist will access your specific needs and create a unique massage for you. (Includes Prenatal massage)
60 Minutes – $65
90 Minutes – $95
Hot Stone Massage
Smooth stones in various sizes heated and used along with the therapist's hands.
A deeply soothing treatment incorporating hot river stones across the whole body to unravel tension and provide a highly relaxing experience.
60 Minutes – $80
90 Minutes – $110
Full Body Scrub
Body treatment aimed at exfoliating and hydrating the skin.
Your choice of a salt or sugar scrub to leave your skin feeling fresh, smooth, and moisturized. Scrub will be removed with warm towels and then softening cream applied to the skin.
60 Minutes – $80
Add-Ons
Aromatherapy $5
Your choice of essential oil scent to compliment the massage.
Hot Stones $10
Hot Towels $10
Paraffin Wax $15
Warm wax used to provide pain relief in hands and feet.
Also softens skin. Please allow an additional 15 minutes
with your treatment.
Foot Scrub $15
Sugar or salt scrub applied only to the feet to exfoliate and
soften. Please allow an additional 15 minutes with your treatment.